Kristen White
This week we would like to introduce Azarue's bride, Kristen White! Kristen is celebrating her one year anniversary with her husband, Cory!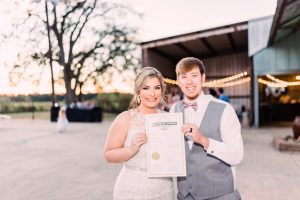 Kristen and Cory met in 2012 at the boardwalk movie theater. He was the first person she saw when she went in for an interview and he chatted with her as she waited. He wished her luck and didn't really ever talk again when they worked together for about a year. They then eventually started dating in 2013 and were inseparable ever since! Funny how those things work out!
Skip a couple years ahead. Cory takes Kristen and her 5 months old daughter on their normal daily walk. He asked her to unzip her daughters jacket and she realized she was wearing a new outfit… it said "Will you marry my daddy?" and when Kristen turned around he was already down on one knee! She said "YES!" before he could even ask her the question out loud!
Next up was time to find Kristen's dress! She brought her friends and family to Azarue's (of course!). The minute Kristen walked out of the dressing room, she knew it was THE dress! Seeing everyone's reactions toward the dress compared to others validated that it ws her dress! She did not want to look any farther, but after trying on a few more, she did not think twice about putting her favorite back on! Then she said "YES!" to the dress!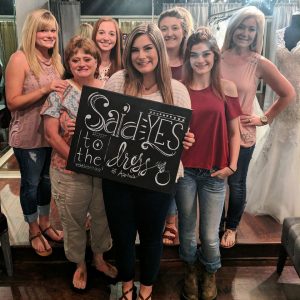 Kristen's favorite part of her dress was the illusion lace on the back, the waistline, and the lavender color underneath! The color was not your "typical" wedding dress color and that was part of the reason why she fell in love with it!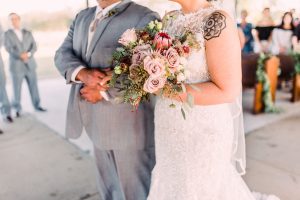 Kristen wanted to go for a modern rustic theme for her wedding. She wanted to keep it clean and simple with lots of flowers! She decided that Dixie Gin in Shreveport would be the perfect location for her big day! Most of her ideas came from Pinterest! She gave all of her ideas to her mom and florist and let them completely take the reins! It was a great decision because her florist, Brianna Belton, did an amazing job!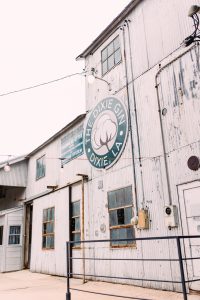 October 15th 2017
In one word, Kristen describes her wedding day as unforgettable! Her favorite part of the wedding was when the door opened as she walked down the aisle. In that moment it felt like time had froze. All she could focus on was her soon-to-be husband and her dad shaking as he handed her off. It was such a sweet moment. An unforgettable moment.
"Take my hand, take my whole life too. For I cant help falling in love with you."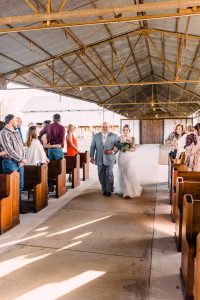 What advice would you give to our future brides when planning their wedding and shopping for their gown?
"Some advice I would give to future brides is to trust the person that is helping you look for your dress. I had so much anxiety going into my appointment. I let Cassidy take the reins and she found my perfect dress! It should not be a stressful thing. Make it fun!"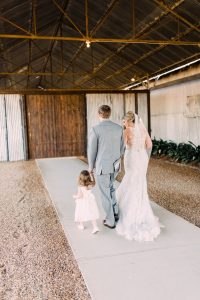 How would you describe your experience at Azarue's?
"Amazing!!! I could not thank Cassidy enough for making my experience so fun yet relaxing. I went in with a high level of anxiety thinking I would not find something I liked (I am an awful shopper), but she made it so easy for me. All the dresses were so beautiful and it was truly difficult for me to only pick one!"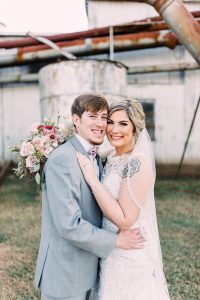 Vendors:
Dress & Veil: Azarue's Bridal and Formal
Make-Up Artist: Meagan Waggoner
Hair: Curl up & Dye by Chrystal Basset
Photographer: Whitney Marie Photography
Venue: Dixie Gin
Florist: Brianna Belton
Caterer: Shavers
[llas_like id="4″] [llas_share id="4″]
[DISPLAY_ULTIMATE_SOCIAL_ICONS]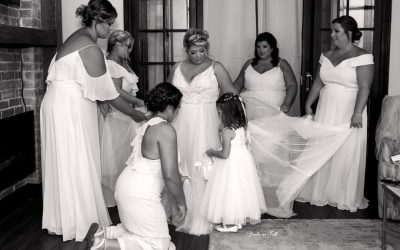 Morgan Bravo's Elegant Vintage Wedding By: Sarah Ramsey We are so excited to introduce Azarue's bride, Morgan Bravo, in this week's blog post! Morgan's wedding was absolutely stunning in every way with an extraordinary venue, a sentimental first look, and an exciting...
Follow us on Instagram @azarues
[ap_instagram_feed]